A Complete Solution for NHS Education Quality Assurance & Trainer Feedback
TrainingMonitor is a self-contained management tool for Education Quality Assurance in NHS Trusts.
It is based on a focused exit survey of trainees completing their posts and provides Directors of Education, supervisors & trainers, faculty members and Deaneries with practical reports and ongoing feedback so they can proactively identify problems and ensure effective delivery of high quality training with minimal effort.
Since TrainingMonitor is automated and customised, it is fast and easy to use, ensures reliable and consistent reporting, doesn't require trained analysts to run it and ensures continuity of crucial reporting.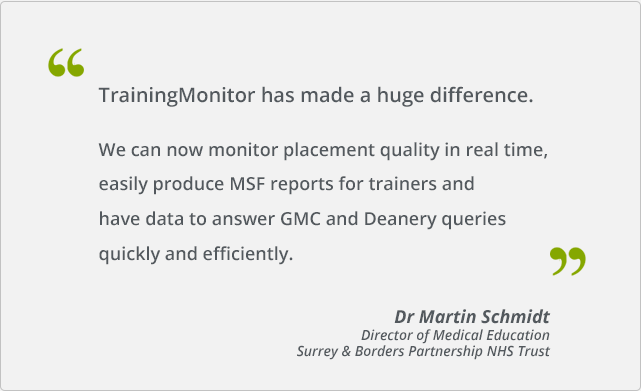 Main TrainingMonitor Benefits

Save time & effort on repetitive tasks

Proactive focus on improvement opportunities

Quickly pinpoint problems

Fast feedback on actions taken

Developed for NHS - Customised to Trust needs
Better control & better overall outcomes
Talk with us about TrainingMonitor
How TrainingMonitor works
The starting point for TrainingMonitor is a core Trainee Survey in SurveyMonkey, covering the main aspects of the training and education programme in sufficient detail to deliver useful management information to DMEs, supervisors, faculty staff and to the Deanery.
The TrainingMonitor survey is customised to each Trust and appropriately branded. In addition to the core survey, there is provision for adding questions on current trust-specific topics, for example use of video conferencing facilities, use of trust laptops, security issues or non-education related current issues that affect staff.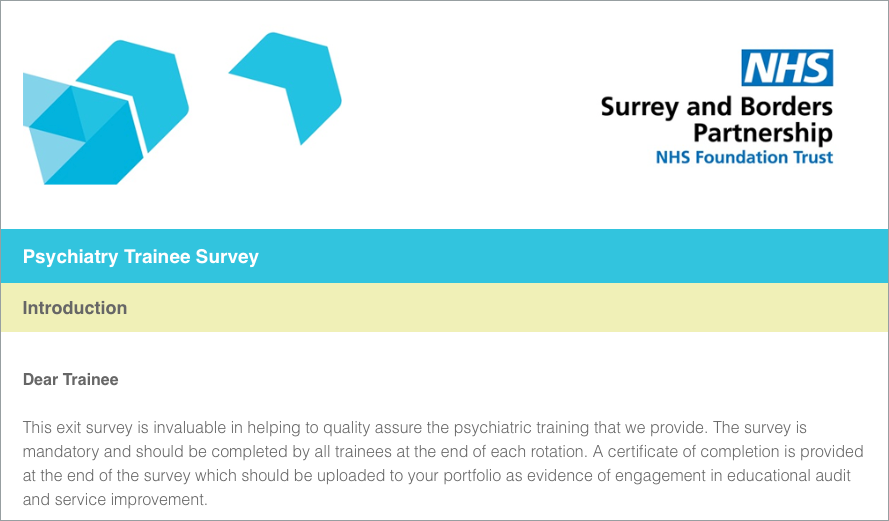 All reporting choices are shown in the trust-customised portal: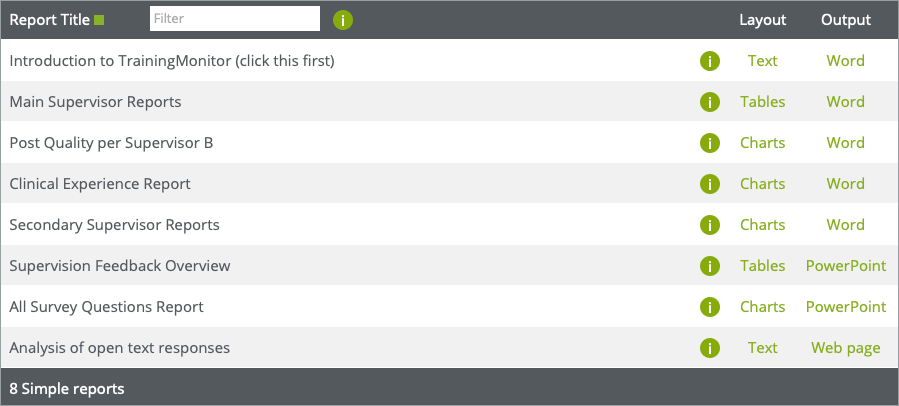 Click a report name to see how it looks. An easy way to find what you're looking for.

Clicking an

button shows further useful information about the report or presentation. "I forgot how to run reports for individuals supervisors. Oh yes, now I remember. It says how right here."

Reports are run at once with a few simple clicks and results quickly appear under My Reports.

From My Reports you can view, download, share and manage all reports.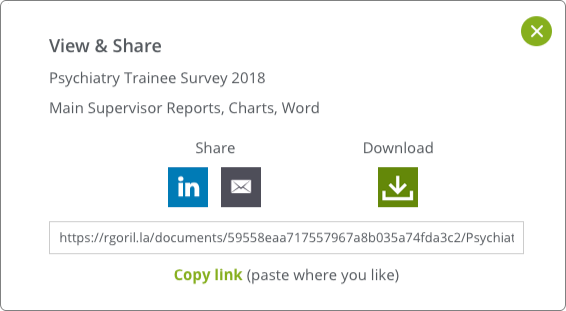 All in one place
TrainingMonitor brings together the tools needed to efficiently manage a recurring reporting process: a documented set of customised reports, convenient execution, a repository for all your reports and an easy way to share and manage them, making it easier to focus on what matters and deliver high quality training and education in NHS trusts.
Request a Demo
Sample TrainingMonitor outputs (random data)
Sample table showing high level topics by grade, highlighting deviations from Trust average.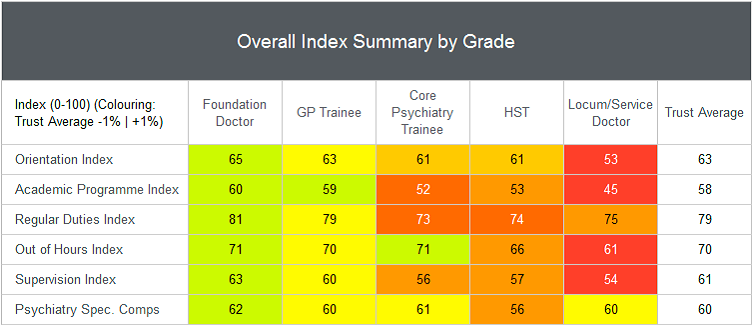 Drilling into Supervision feedback details by locality, highlighting out-of-band results.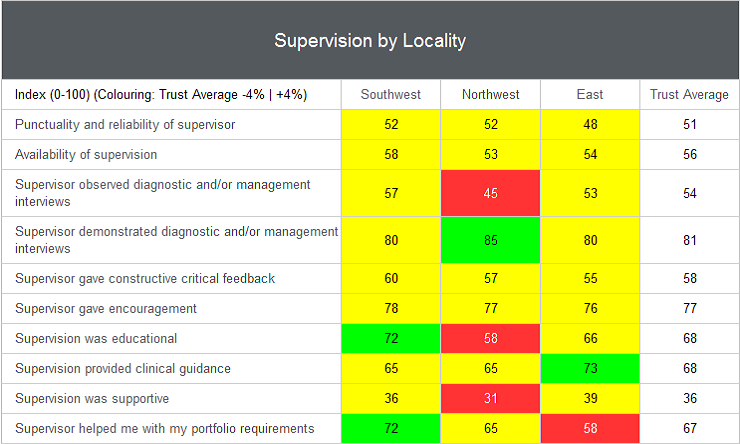 Sample chart showing trend of overall Academic Programme Index by Trainee Grade.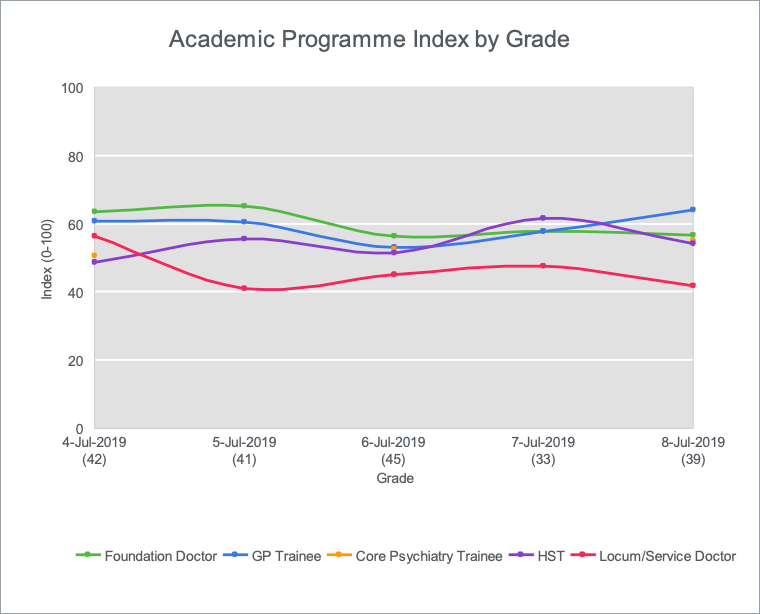 Main benefits:
Save time on repetitive tasks
Increase staff productivity
Ensure continuity of processes
Improve reliability & quality of reporting
Focus on vital improvement opportunities
Better control & overall outcomes
Key Features:
Monitor trainee placement quality
Probe GMC survey flags
Trainer MSF (Multi Source Feedback)
Produce LFG/Board reports
Explore trends and change
Customisable survey & reporting
Explore TrainingMonitor with us