ReportGorilla meets SurveyMonkey
Effortless SurveyMonkey Reporting
April 18, 2018
We are delighted to offer powerful new survey reporting to SurveyMonkey customers.
ReportGorilla is an easy to use, cloud based survey reporting service for SurveyMonkey surveys. It uses built-in expert knowledge and automation to effortlessly create professional reports and presentations in a variety of styles and outputs from your survey data.
Easy to use - professional results fast
You will save time and get access to powerful reporting capabilities at the press of a button. Create your reports as web pages, as Word, PowerPoint or Excel documents you can edit, or as collections of charts.
You don't need technical or analytical know-how to use ReportGorilla. It's report creation by pictures. Point to what you want and let ReportGorilla do the heavy lifting.
How does it work?
When you select a survey, ReportGorilla loads and examines it and shows you a range of reporting options.

Now you can browse report options, view thumbnails and read descriptions.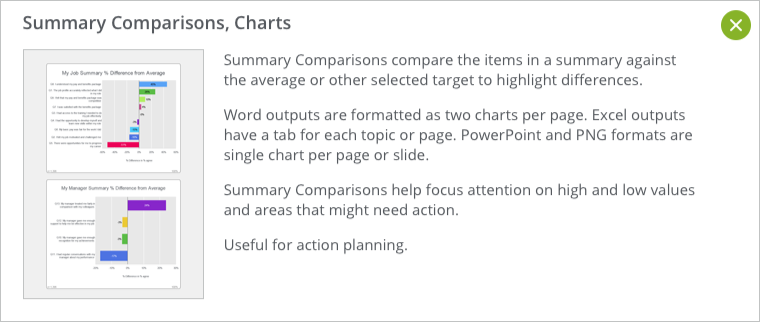 Previews - Try before you buy
With ReportGorilla Previews, you'll see exactly how your report will look, using realistic test data. This is a powerful learning and refinement tool that removes uncertainty. Previews are free, so you can try before you buy. Every time. Preview makes it easy to discover different useful ways to look at your survey data.
It's so easy - so you'll learn faster
Since it's easy, you'll get instant feedback on the choices you make. You'll quickly become more aware of reporting options, learn faster, and make those discoveries before anyone else. And it's fun too.
No subscription
There is no subscription. You pay only for the reports you want. Just add reports to your basket and they will be instantly created when you check out. That's it!
All your completed reports are conveniently available on the My Reports page. From there, you can easily view, share, bulk download or delete your survey reports, so you are confidently in control.

View and share with ease
In My Reports, click any View button to open the View & Share panel. With a click or two, you'll be done.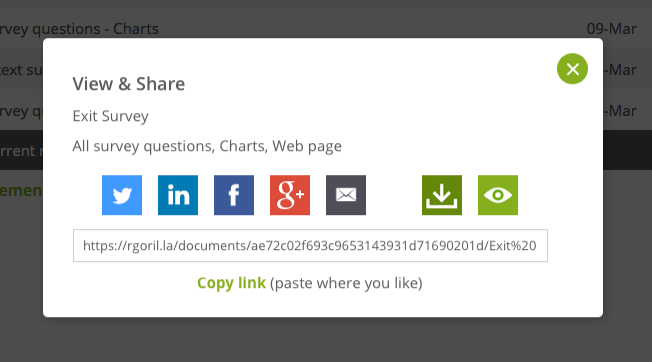 Try it out. It's easy
If you're already a SurveyMonkey user, you can immediately discover what ReportGorilla can do with your surveys by trying it now, FREE. And if you're not a SurveyMonkey customer, or want more information, you can watch this short intro video, so you can see how easily ReportGorilla can help you get more value from your survey data.
Note: SurveyMonkey requires that you have an annual plan to access your survey answers this way. The good news is that with ReportGorilla, you can create and view report previews with any SurveyMonkey plan or survey.